....... Taking the 'high road' along the valley, we poked our noses into many campsites, but had that feeling that we were just 30mins late, as everyone there had already snagged the good sites and was just setting up. Nevertheless, we got a great site right by the river and set ourselves up. Having a wash in the river was a pleasant relief, but as usual we were all toey to get out and do something so we set out for the Widowmaker.

This is a steep climb up the back of the homestead that is used for highmarking by motos and 4wd's, and for good reason. Its bloody steep. Typically, the photos show nothing, but we bashed away at that to burn some energy, and I think that Benny may have been the winner overall.

We then rolled around the valley to stretch out our legs before heading back and prepping our bikes and bodies for the day ahead.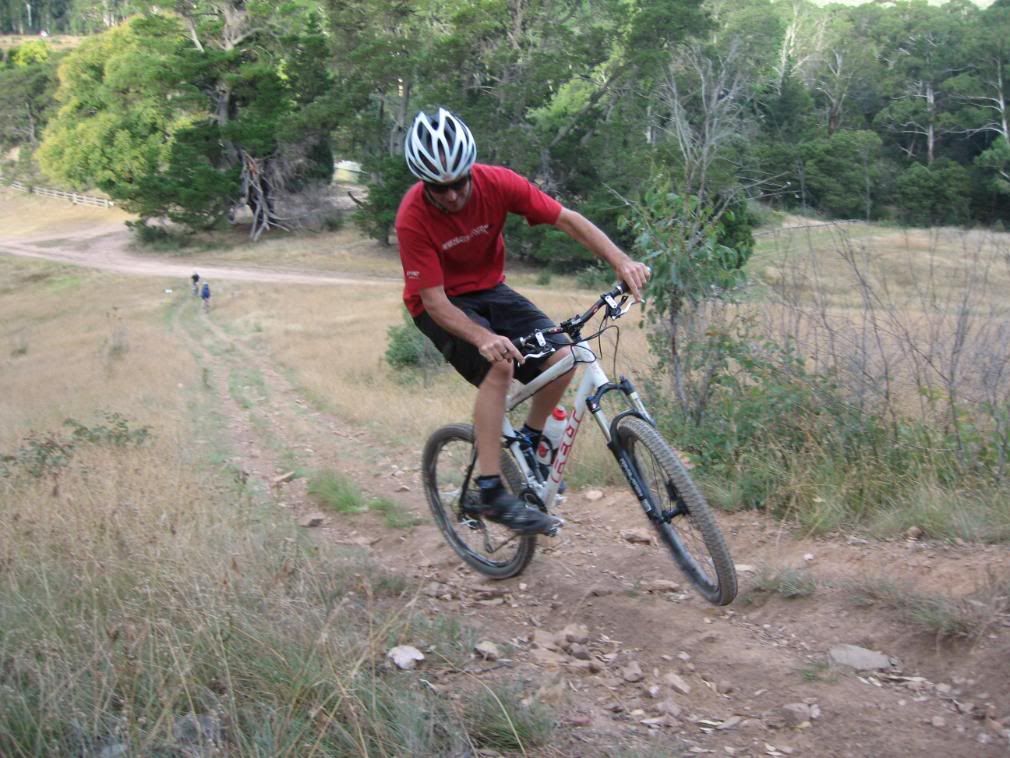 A good pasta feed up (thanks Tessa) around the fire hit the spot square on, and we collapse into our swags and bivvies not long after. Up nice and early to see the mist slowly rising from the plains, it was kinda chilly.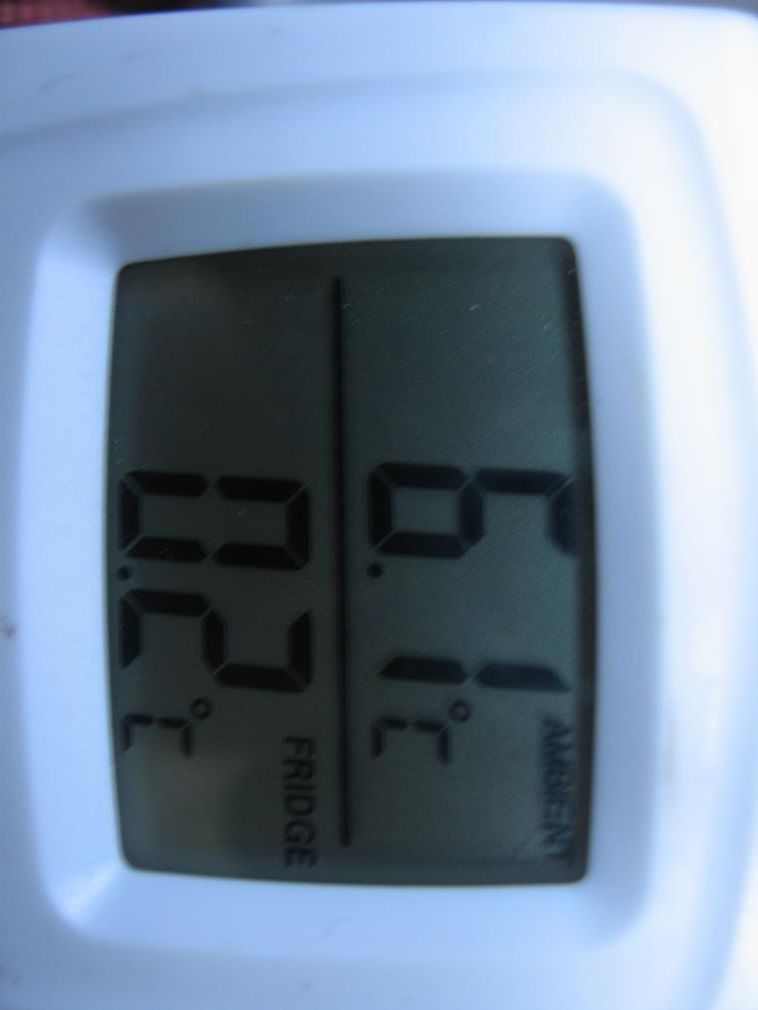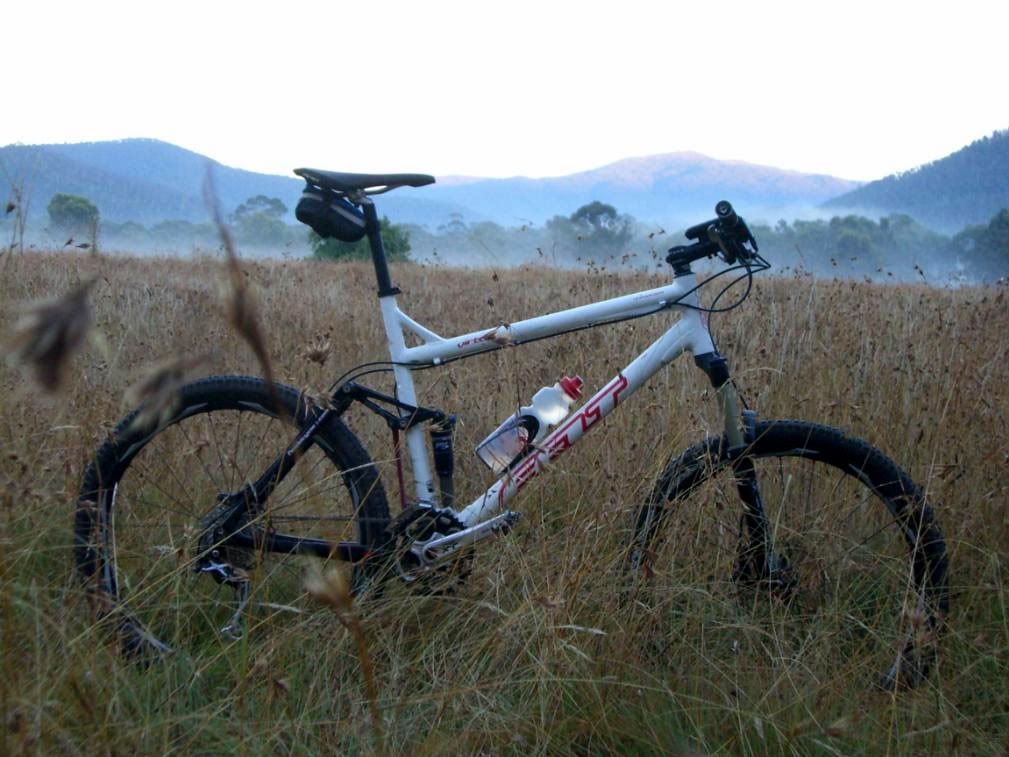 Still, with a million star view overnight, and not a cloud to be spotted, it was just perfect. Water dispensed, food packed, tools, radios and cameras all stowed and it was time to get out there and onto it! Jason and Nat both tipped a small amount of water from their water bladders, whilst Ben and I chuckled, only for them to realize where we were and what we were doing, and go and fill them to the top again. Silly boys! We were carrying some heavy bags, with about 4kgs of water alone before anything else, but its par for the course, and both my Camelbak Havoc and Jasons pack were excellent all day. The radios turned out the be almost the best bit of kit we had, after our trusty Felt Virtues, being able to communicate whilst out of sight made everything easier. Looking for trails, climbing big hills, waiting at photo calls, all were easier with handy radios. Except for the one we lost…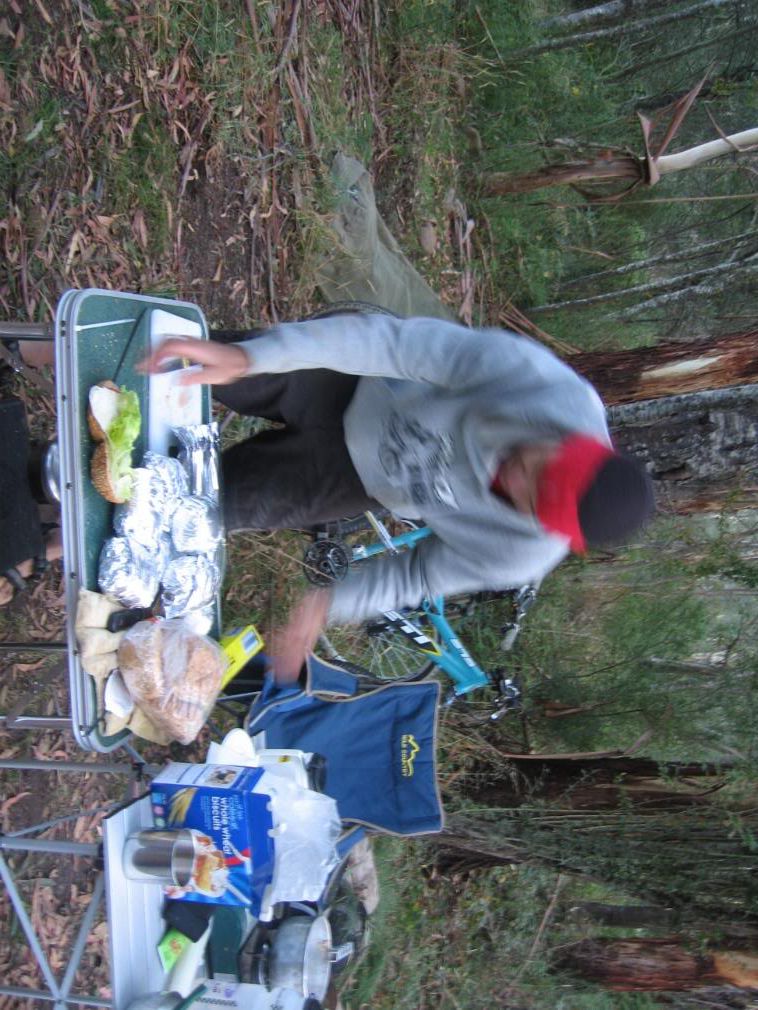 The route itself was a bit of a work in progress. We generally elect to have a rough plan in place for planning and safety, but then alter it as we go. This is due to changing circumstance, water consumption, fatigue etc, so it gives us scope to accommodate everyone. This was very much the case all day out here in the Wonnangatta.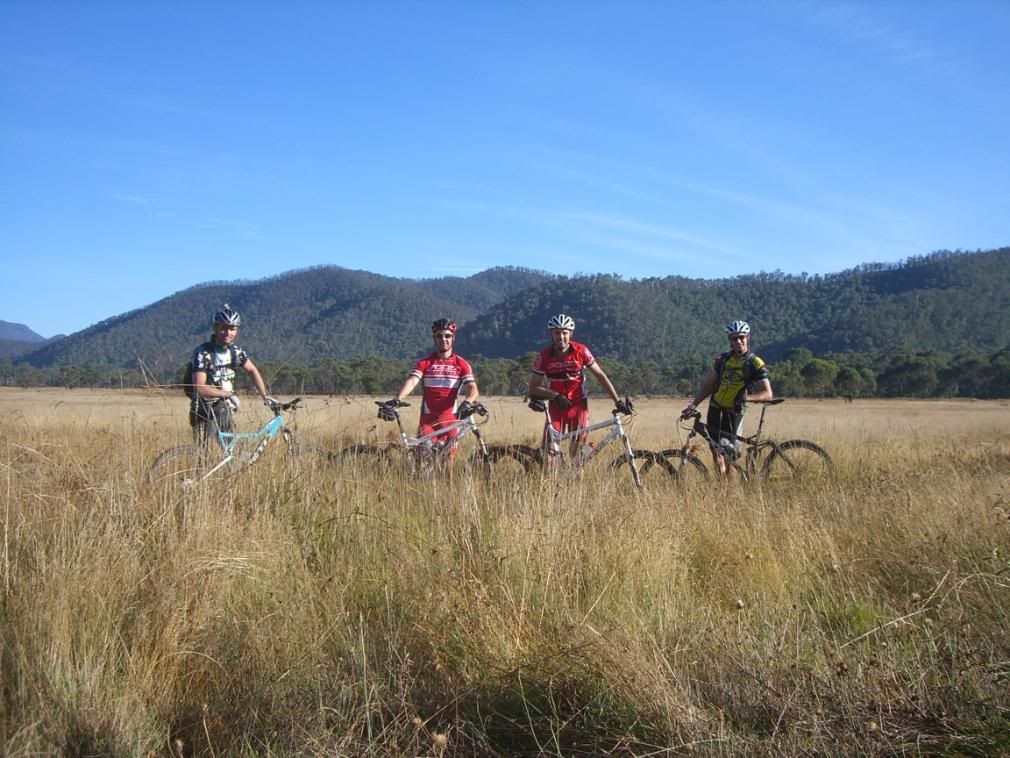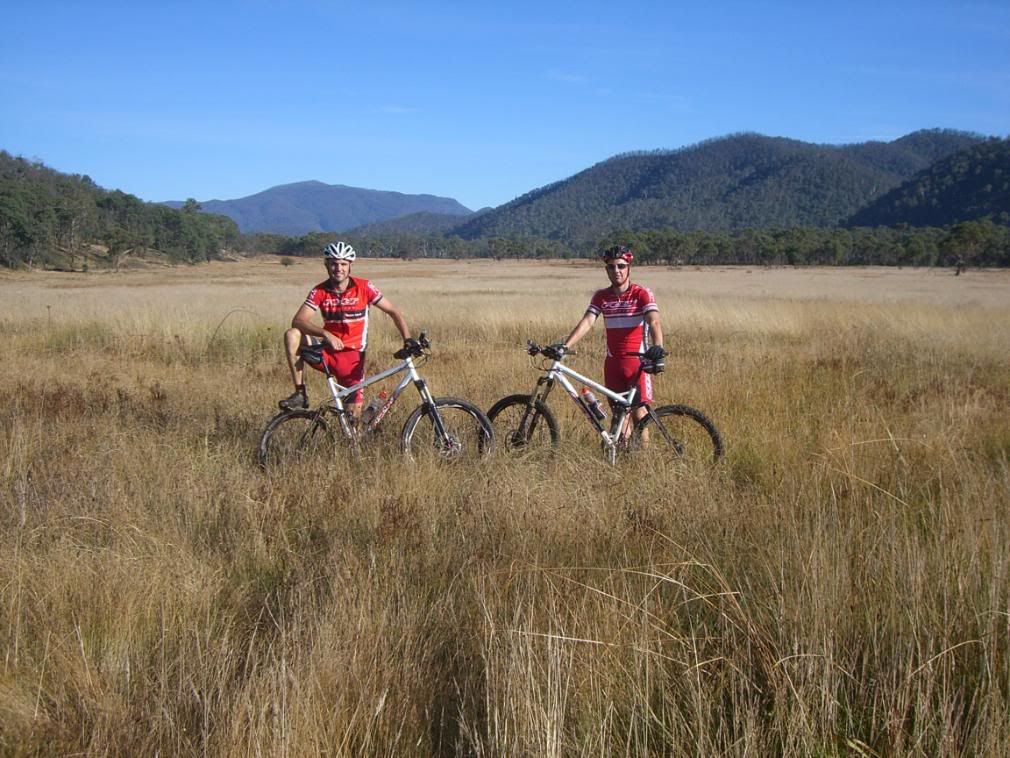 Looking for a bit of singletrail marked as 'excellent condition', it took us the better part of half an hour to locate this suspension bridge. In the end, we asked some people, they jerked a thumb over their shoulder, and told us to watch out for the the 'shooter boys' that just went that way… Great…! The job wasn't over yet though. Pushing through the thistles and blackberries, we found the bridge, and with Ben over it in a flash and searching for the trail, we all stopped and laughed on the smart side.

The trail was basically non-existant due to overgrowth, Ben tore himself up looking for it, but to no avail, so we had backtracked out to the 'main' trail. Trails out here, there isn't much 'main' about them, other than the thickness of the line on a map. But we hit it, and went up.
And up.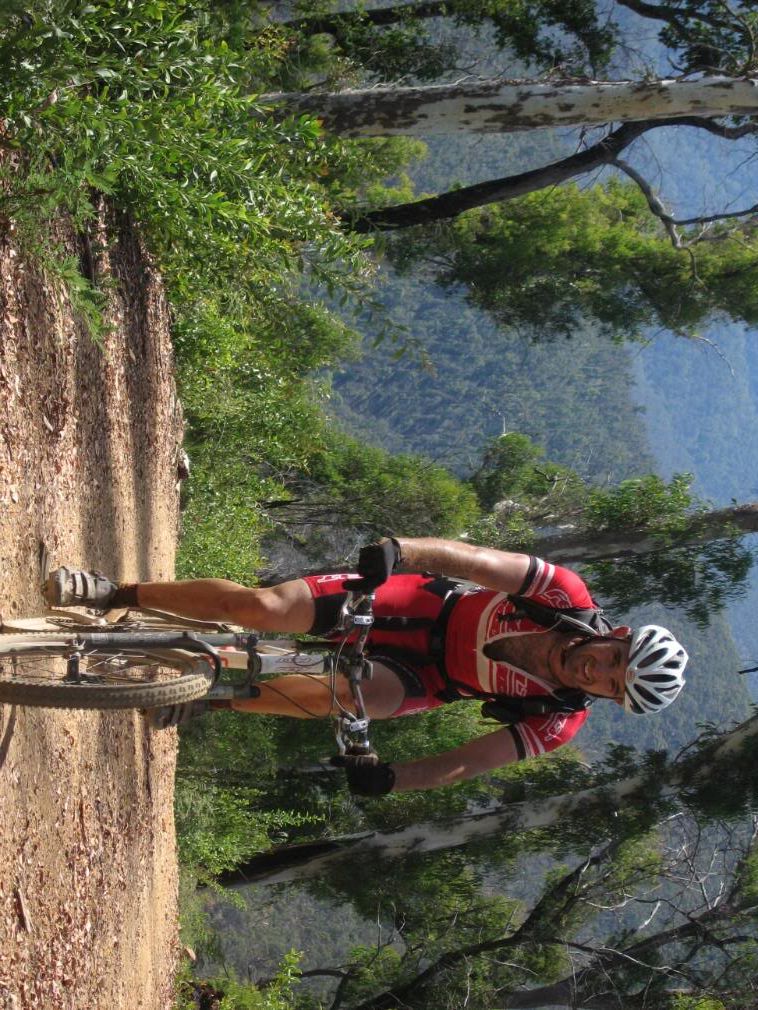 Until I lost breakfast due to overheating from excess clothing. What a waste.
We've all learnt by now there is NO shame in banging it straight in the little cog, and I even heard the call for a 22 tooth, matched to a 34, something I'll be doing for sure in the future! But water bar by water bar, we made it to the top of the first climb of the day, were I'm sure Ben wasn't even sweating. That 24 hour prep is coming along pretty well if you ask me. Hooking down the back side of that ridge line, we went past where that walking trail was supposed to come out, and there was no sign of it so it looks like we made the right choice.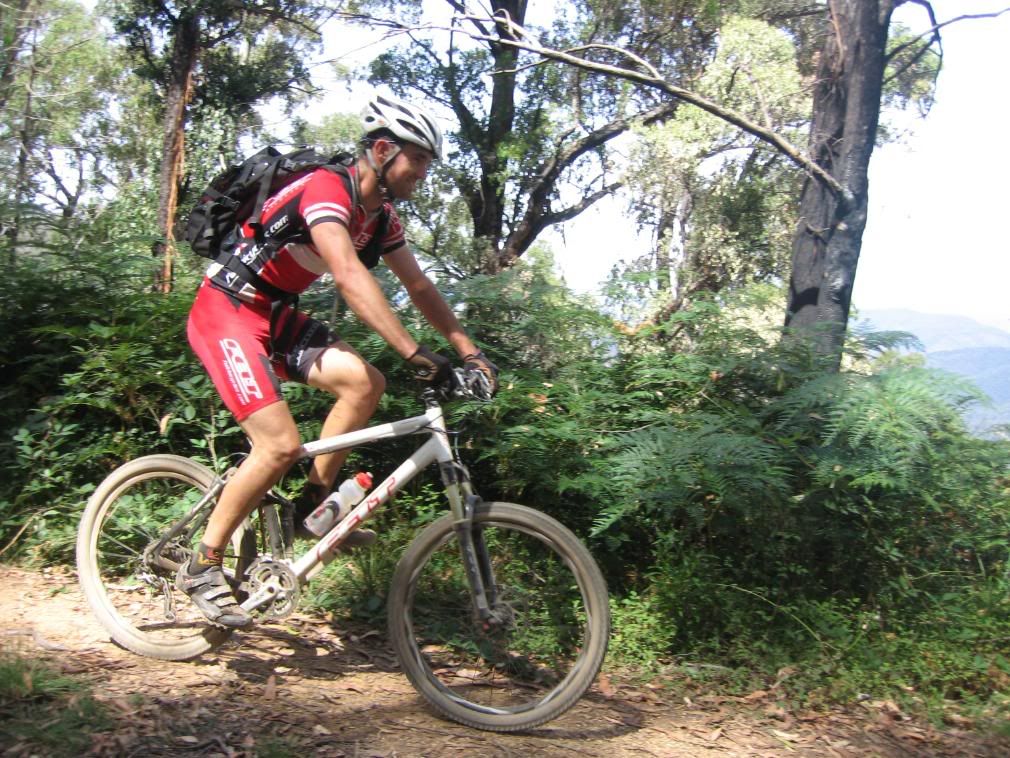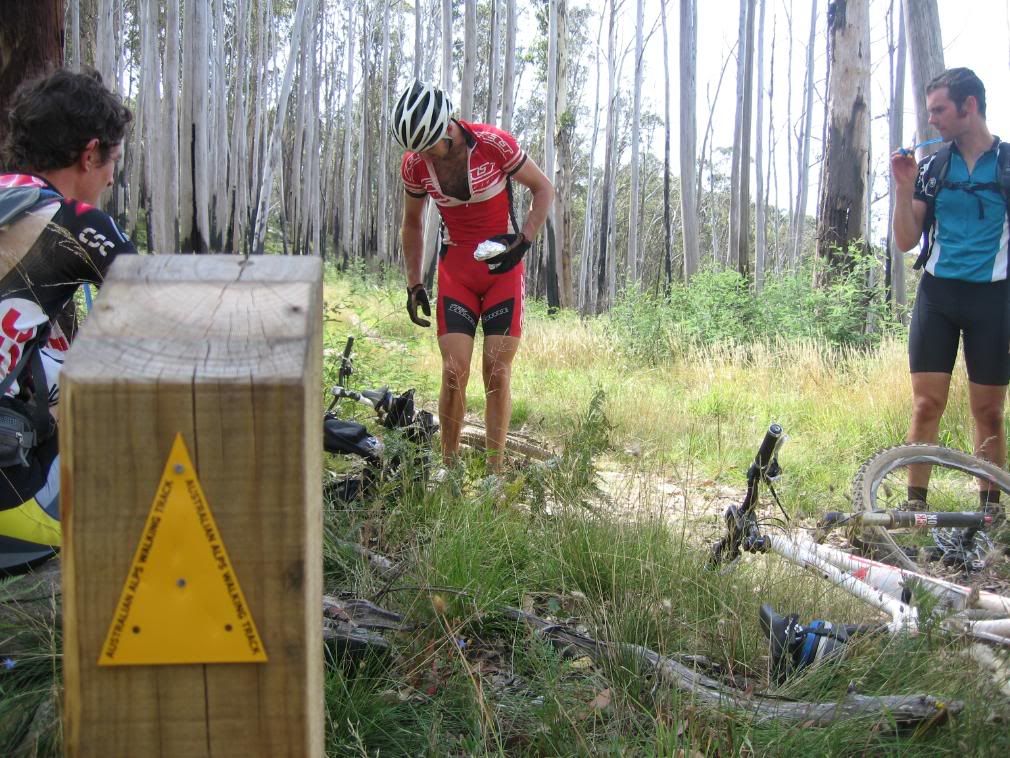 Up Humphry River track we went, and hooked around onto one of the bigger climbs for the day, and set about making it to the top. I think we basically wheelied our way up to the top, intermixed with stopping on water bars for some of us. Damn they make it steep out there!!
With a constant banter, and quotes from a wiiiide selection of movies over the radio for distraction, we made it to the top, and the Bicentennial Walking Trail. Covering some 600+km from memory, this trail runs all the way to Canberra (why would you bother…. Its Canberra.) And its great for mountain bikes, although the water situation takes some planning!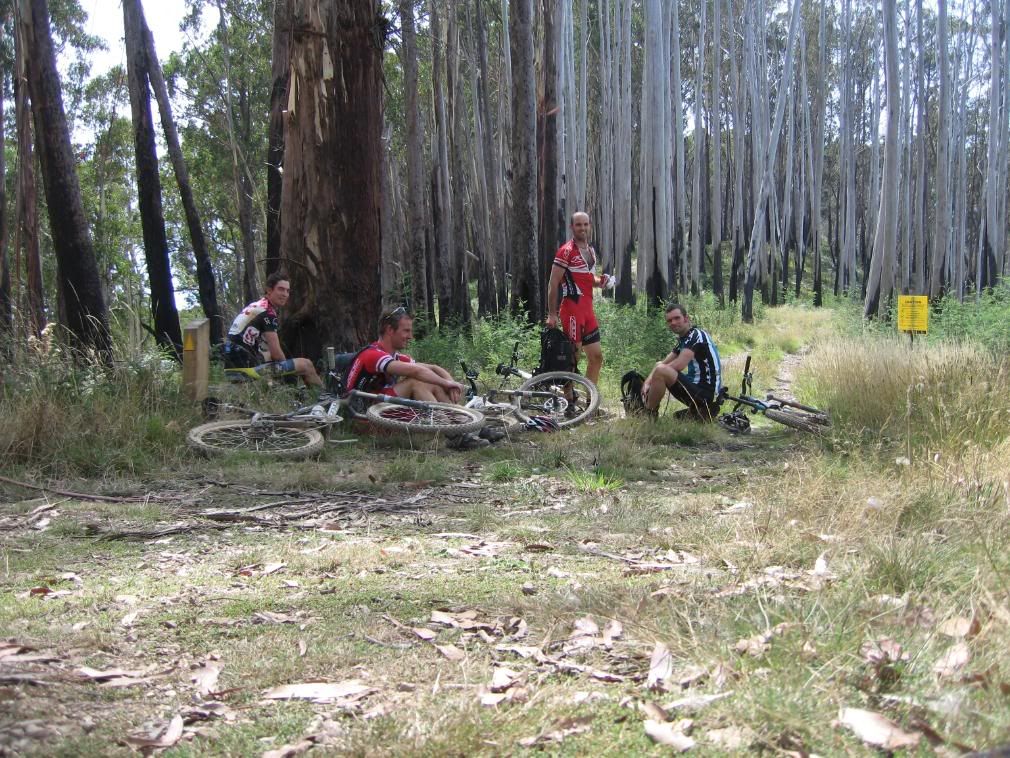 Lunch atop the trail, and we're into the salad rolls, and damn they taste good.
Jason is into whatever vitamins he can find, from iron, to vitC to Enervit electrolytes; I think he rattled when we started again. Water was becoming an issue also, with temps heading well over 30, and no water within cooee on the maps. The call had to be made to modify the ride to head to water soonest, and that's exactly what we did.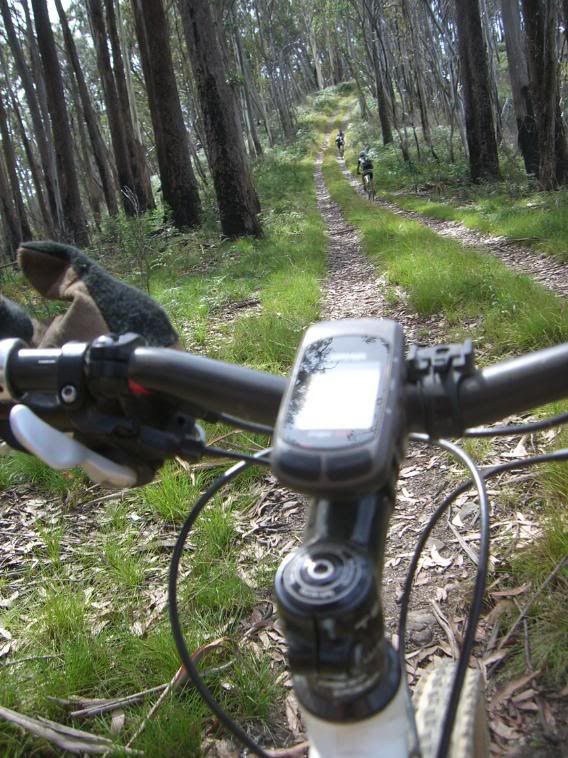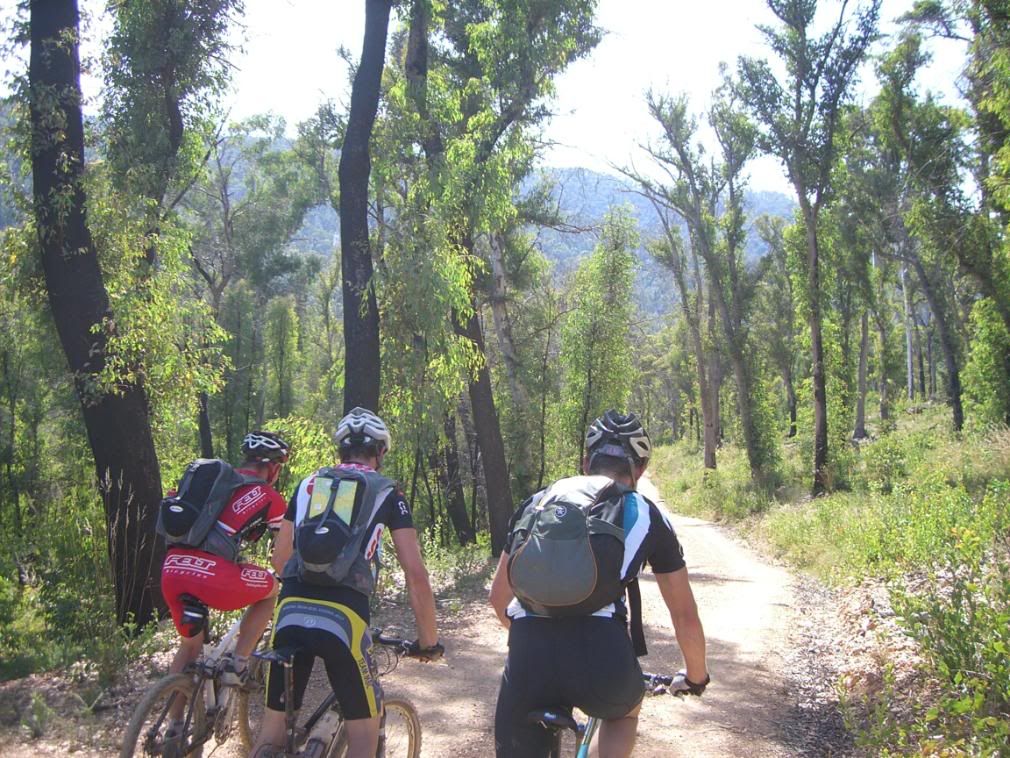 Descending the opposite ridgeline to the one we just climbed, it was awesome. Screaming brakes, screaming riders, waterbars to launch you into next week, boulders, scree, sticks, leaves, cliffs, this descent had it all!!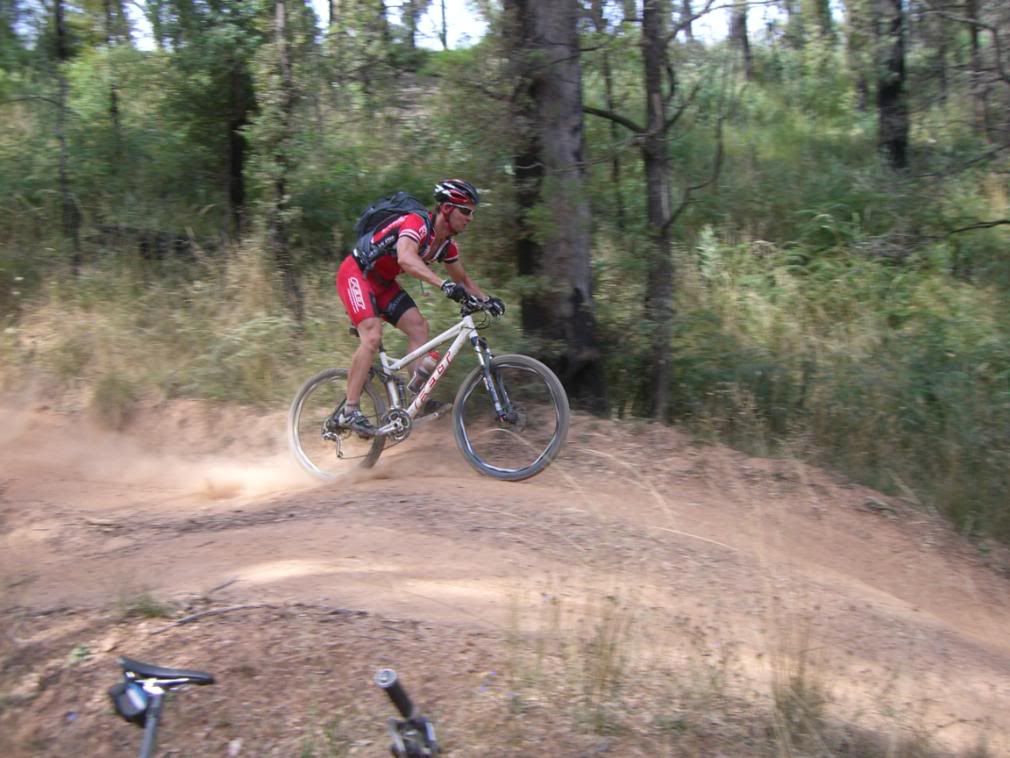 And best of all, we all regrouped at the bottom, and were nattering away, when someone said "is that water running?" Sure enough, we'd stopped perfectly at a little creek, and so it was break time!
Everyone had pretty much just taken the last sip of their 3L water vessels, and the timing couldn't have been better!!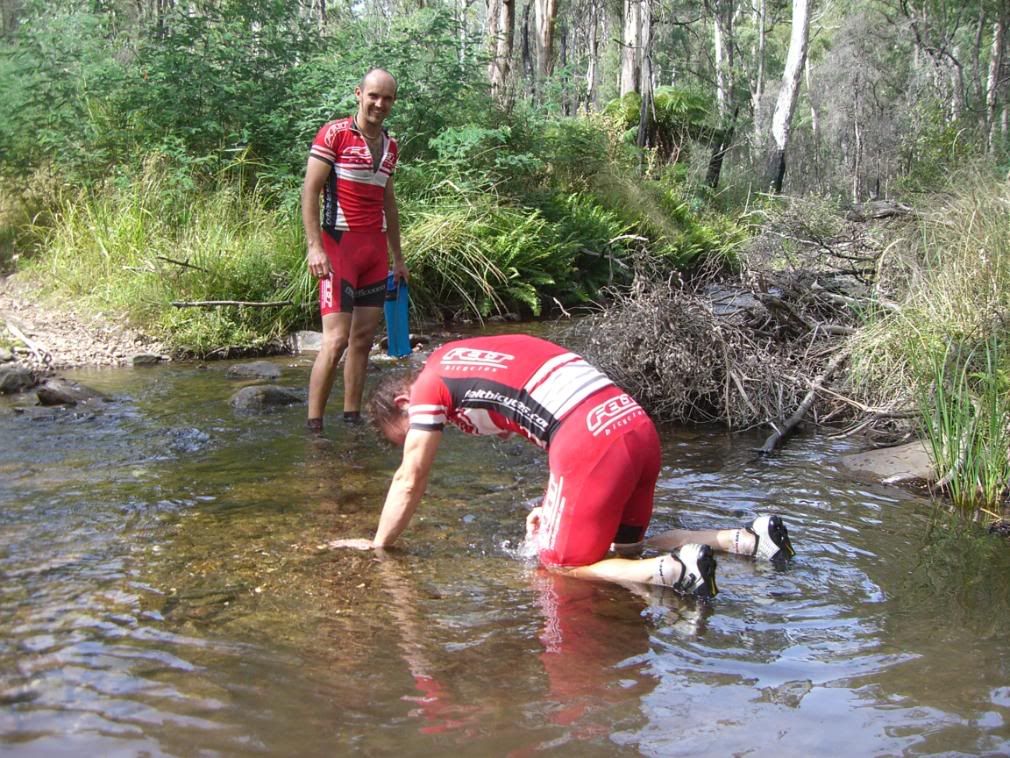 Jase discovers a new way to subdue cramps. We all laugh. And then proceed to do exactly the same.

Ben still was yet to sweat.

But he does in the next installment. Big climbs and long descents made the last section of the ride the best bit. The video is on its way also, as the week progresses, so you all know the deal - check back and you'll see more new stuff! How many blogs have daily updates that you check?? A few perhaps, but not many. (alright, its not that regular, but we try!!)