Seemed the time had come once again to get things moving in the dark. Sadly for most of us, the time to start thinking about some form of illumination has come around again. Even whilst I type this in the morning, its still dark, and most of our rides in the evening conclude in the dark. So out with the NightLightning lights it is!



Jason and I headed to the Dandenongs once again for some late night pedaling to do some testing on the latest NightLightning offerings, and get some images down. Running the iBlaast II's with Cree R2 LED's see's about 40% more light making it down the trail over the existing, and excellent, iBlaast. Up to 1000Lumens at full noise, thats a hell of a lot of light. Pair that up with a bar light, and it practically cheating!






You can see how much light is actually making it down on the trail, how does that compare to your existing brand of lights? Pretty impressive I'd say!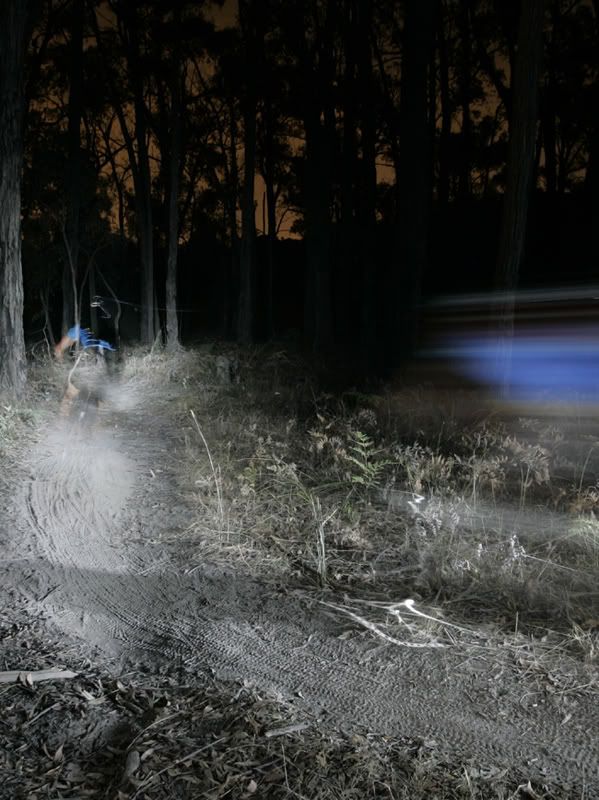 The photo above is actually both Jason and myself on the trail. Have a look at how clear the trail is from our lights. The flashwork from the camera only illuminates the riders to capture us, all the light on the trail is from our iBlaasts!






And finally you know you've got some lights going for you when you can brake slide through unknown corners at speed in the dark...! So whilst this post seems like an advertorial, and is in a fashion, it does serve to give you a valid comparison to you existing brand of lights. Next time your out riding around in the dark, have a look at how much light you're getting. And if you see us around, please ask us for a test ride. This year promises to bring some exciting developments at NightLightning we're told, so you'll see it all here first.


(and please, don't forget that my F1C is still for sale. 60cm, awesome condition, begging for a new life with you or someone you know.)