With another glorious Autumn weekend upon us, Jason, myself and loyal families headed up to the beautiful alpine area. A mission after the real world ended on friday took us to Yea for a great parma, and then onwards through the 'controlled burns' (contradiction, I ask??) to the awesome King Valley.



Waking next morning to kookaburras makes you realize how cool this country really is, that 2 city dwellers can make the effort to get out on any given Friday, and be surrounded by nature with so little effort. Road bikes were the order of the weekend, with out F1c's being the perfect bike for some serious climbing, and absorbing the harsh alpine bitumen.



We stopped in for supplies at Gapsted Winery, picked up our cheeses and breads in Milawa, and caught our dinner of fresh trout all on the way to the hill.



Yep, we travel light, bare essentials 'tis all... All of this is essential to ride 30km uphill, alright! Even the 30m drum of electrical cable, all of it!!




Accompanying us on the weekend is the Fatties XC President Joel (Total Rush), desperate to spend some time out of Melbourne not 'testing' CFA fire appliances.



Joel was all over the camera during the early stages, great as there is very few photos of Jason and myself! On an awesome day, the partners were in the car convoy up the hill whilst the boys got to pedal our way up.



She's a tough climb on any given day, but it has to be one of the better ones as it has so much variety to offer! With steep pinches, trees growing back after fire damage, all the way up to the barren upper slopes, this climb would challenge anyone.


I though I just had a flat tyre, apparently this is how Jason saves his energy for the kick on the upper slopes. The seatpost drag, an oldie but a goodie ;)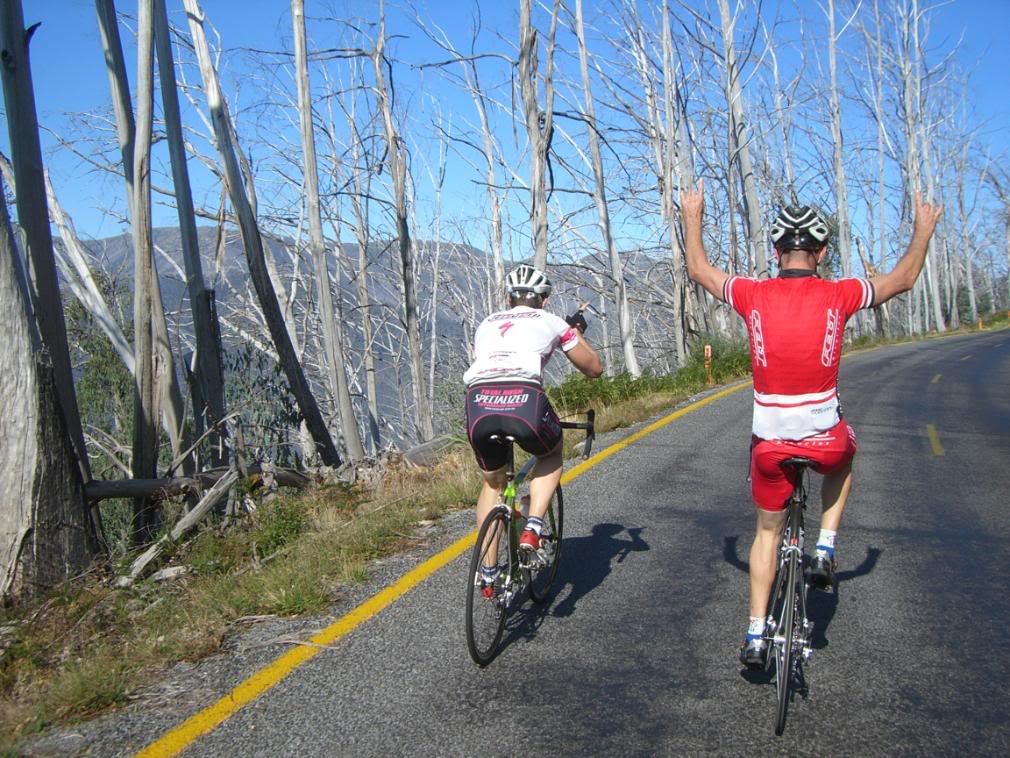 I don't know what I was so happy about, the top is that ridge line over to the left of photo.


Making shadow puppets seemed hilarious. At the time...

With 30km of straight climbing, you know all about it, and the cold slightly thin air leaves you sucking in the big ones.



Speaking of barren...



And that was pretty well the last I saw of the boys... I think they're packing a few more horsepower than me at the moment, so I amused myself with taking photos, maintaining a cadence of about 6rpm...



Jason seems to think he's some sort of tour guide.



I taught him everything I know! (It didn't take long...)


And finally, looking down from the top, you can see the backburns/fuel reduction burns in progress, and it makes you a little uneasy sometimes... Standing on top of a hill, looking down at fire surely can't be the best course of action.




With the climb up in the bag, a great weekend was had in the meantime, and that left just the descent to be complete. This is a killer ride, the first third is crazy exposed high speed nerve testers and a few climbs. The middle third is a lot of false flats and hard work to keep the speed up, and the final section is one of the best descents around. No photos here, just car chasing and keeping it wiide open. Do this descent at least once, and more if you can manage, as its a killer!! :)

So thats us for another adventure! Our bikes were flawless both climbing up the hill, the ridiulous light weight and stiffness makes them an absolute weapon and curiously comfortable at the same time, whilst on the way back down they just carved up the corners with poise and control. The dura-ace brakes were spot on as usual, with some corners getting so wild that the rear end was up and skipping around under brakes, such is the power that they offer up front. They really haul you down, and let you leave that braking for much later!

And finally, the Ascend product really seems to giving us some great results. We've managed to get our hands on some sample packs as well, so if you'd like to give Ascend a chance, get in touch with us and we'll hook you up with a sample pack. Leave a comment and we'll get back to you!

Plans are falling in place for the next Epix as well, and there are whispers of even further reaching adventures...!