If you'll excuse my tardiness, lets get this going!

Castlemaine Epix came about as a long ago made idea to go and visit some friends in Castlemaine and get them to show us what some real trails are like. We held off on doing the ride until it got quite deep into winter because as we all know, Castlemaine doesn't really do mud, thankfully for us, and thankfully for the preservation of their trails. So early one sunday morning we made the trek northwards.

Joining Jason and myself, was Ben Randall( Yeti Australia), Joel Read (FTF/SRAM/Total Rush) Matt Tait, Nick Lewis, Jason (Castlemaine Cycles), and Kyle. The day dawned pretty bloody early for the Melbourne crew, after a larger night for some of us at a Charity cocktail party, where some may have gotten a little more charitable than others! ;)




The plan was to get a shuttle out to the drop off point, ride awesome singletrack to another meeting point to pick up the shuttlers, and continue more local trail back into Castlemaine. With great thanks, the Rocky Riders club trailer was dragged into service, bikes loaded and thundering off down the highway!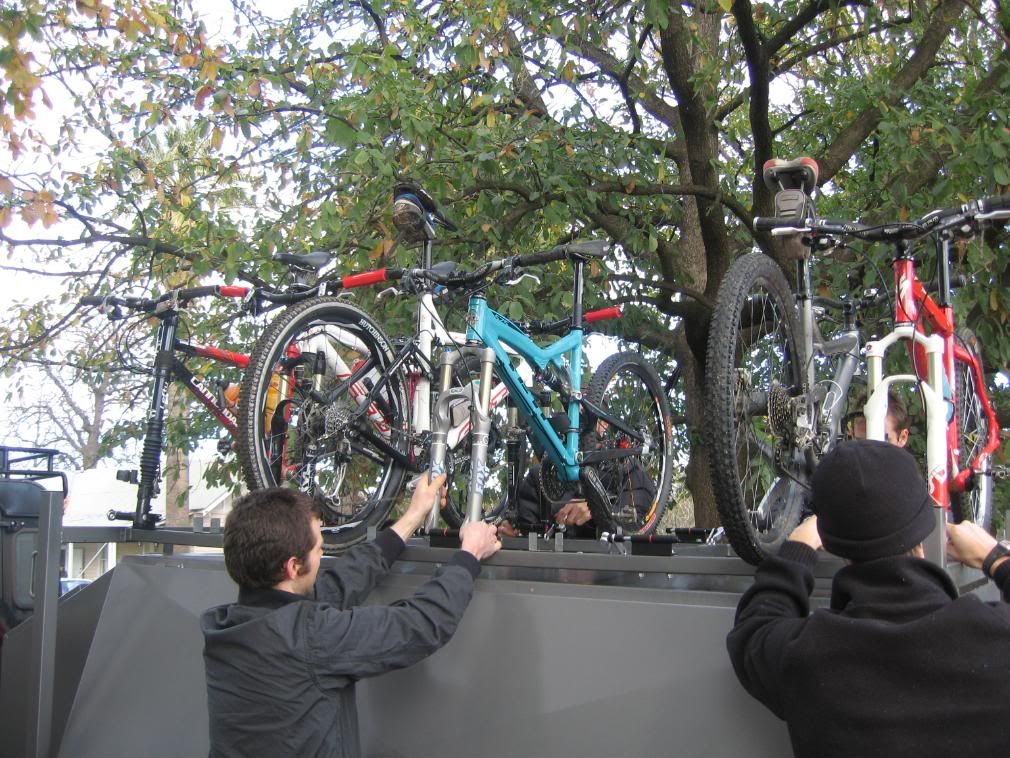 Unloaded and good to roll, the obligatory photo call was conducted, Joel again served to remind us that pink and red will never be complimentary, Ben gives us his best angle apparently, and we're good to go.



(I think I had already started eating... Pity, instead of filling my face I could have remembered the things that I had forgotten, like gloves... and my medication... and my Garmin... And it wasn't even me getting charitable the night before!)




The 6 speed (yep!!?) Rover with club trailer, with Nick giving us some last minute directions, which literally in about 3 minutes we forgot, and took the only wrong turn available to us, and proceeded to find 30 kilometres of singletrack which whilst taking us south instead of north, was some of the best trail we've ever ridden. Maybe he was hiding it from us!? :) It was quite a comedy when we realised 3 hours later that we'd gone the wrong way, having done the old left instead of right trick about 3 minutes after this photo, but nobody cared at all. Even with the bitumen shuttle we had to do to try and correct our error, we could care less as the trail we'd done was that good!!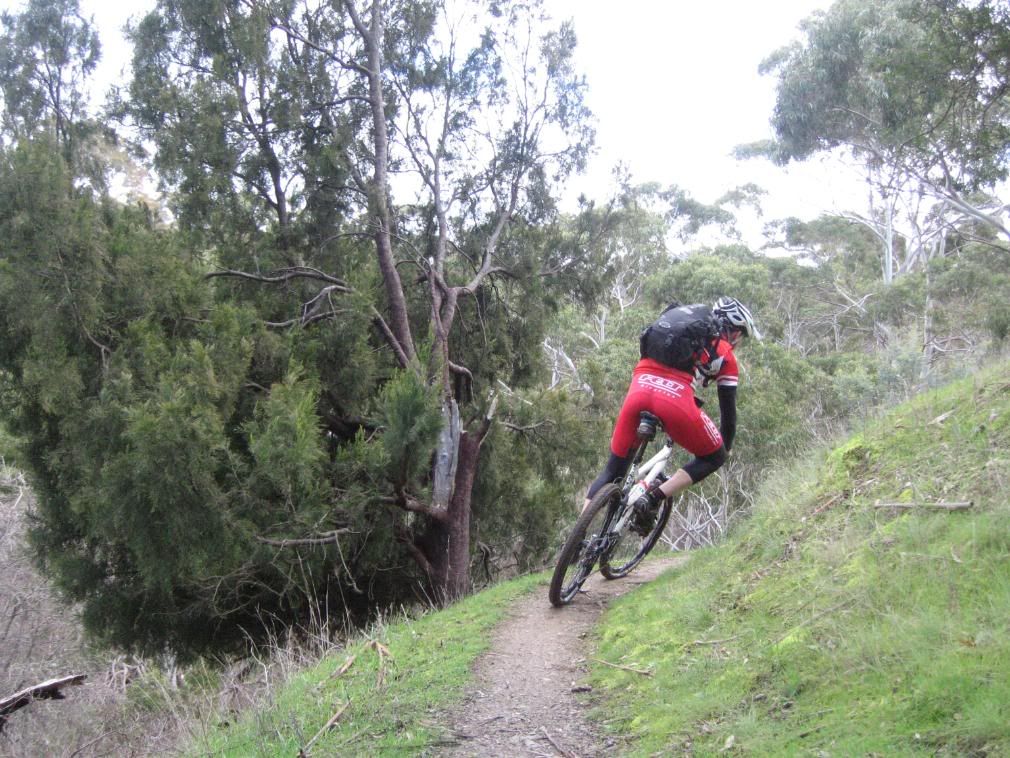 But back to the story, is it any wonder we kept going the wrong way??





Amusingly, we even took a bit of a bobble on our incorrect route, but that was only so we could go and visit the Cricket bat factory!



Trail trail trail, its what we come out and do these rides for!!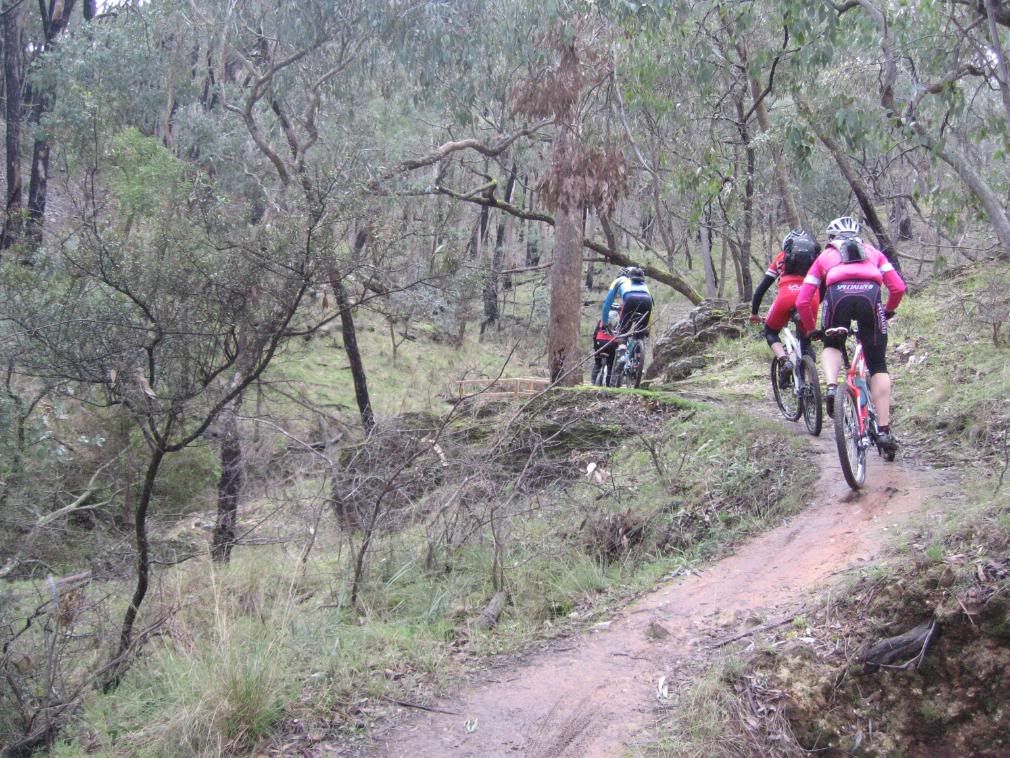 This hole had hidden ditch in it, which if Jason had cut *any* tighter, he would have been swallowed. So I set up for a photo!!




It kinda looks like someones backyard I think, but its very definitely not! It a pretty long way from anywhere, yet is a perfectly formed singletrack!



Snacky snacky time. Joel wraps his laughing gear around the latest from AscendSport and reports back to to positive. In fact there was a lot of positive comments about the bars later in the day, to the effect of 'they really kept me going'. Which is good, as its far easier to criticize than it is to offer praise, especially when you're tired, so Ascend is onto a good thing!




Preeeety... As in preeety good trails maaaaate!!




Whilst the lack of gloves wasn't helped in the cooler climes, I must say the grips performed remarkably well, and remained clean as well which is a bonus. Right up until I dunked it in the dirt trying to follow Randall up a cliff. But the red is looking very nice with the kit and bike, isn't it!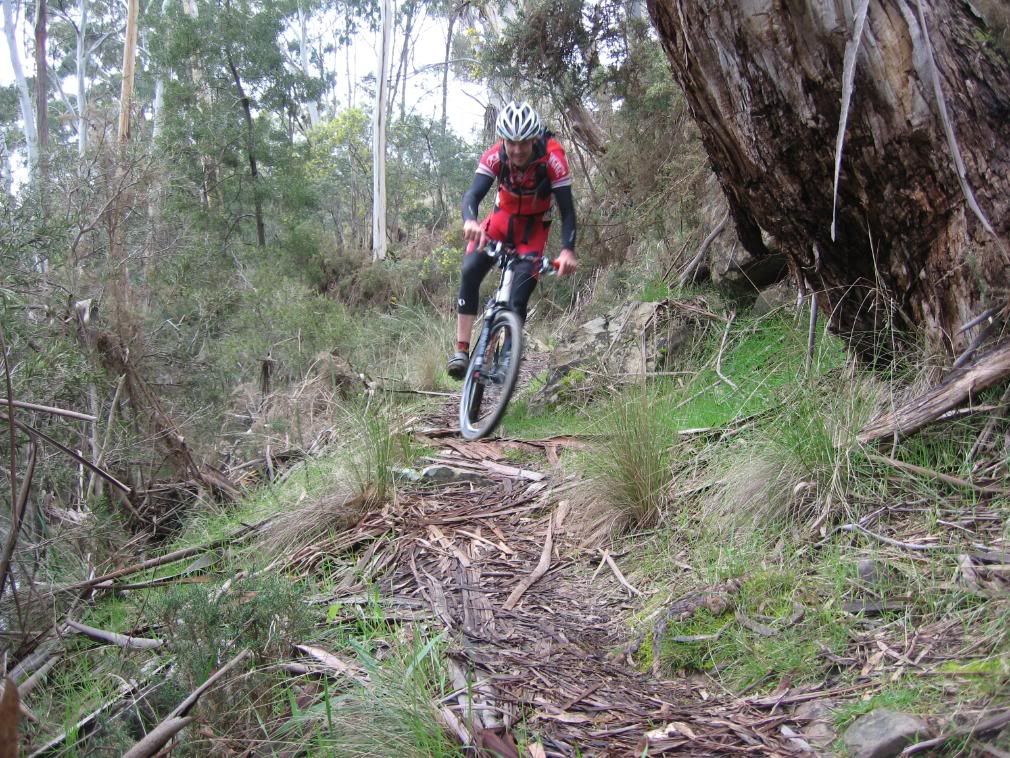 I have no idea what I was trying to achieve here...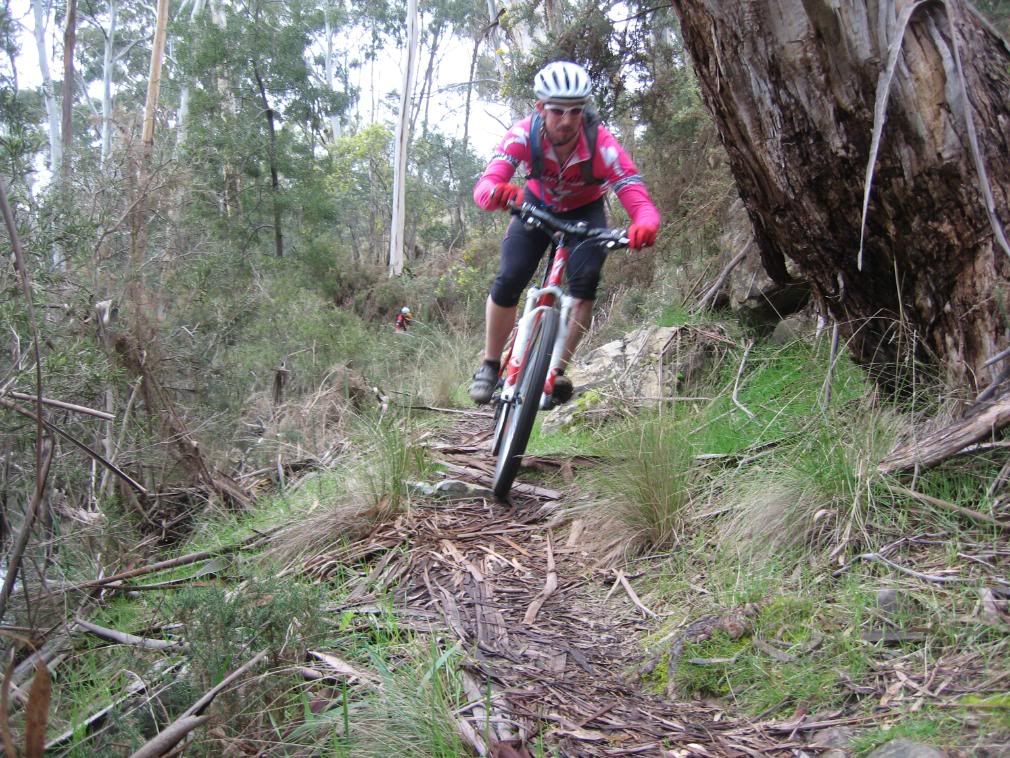 Joel gettin 'er done.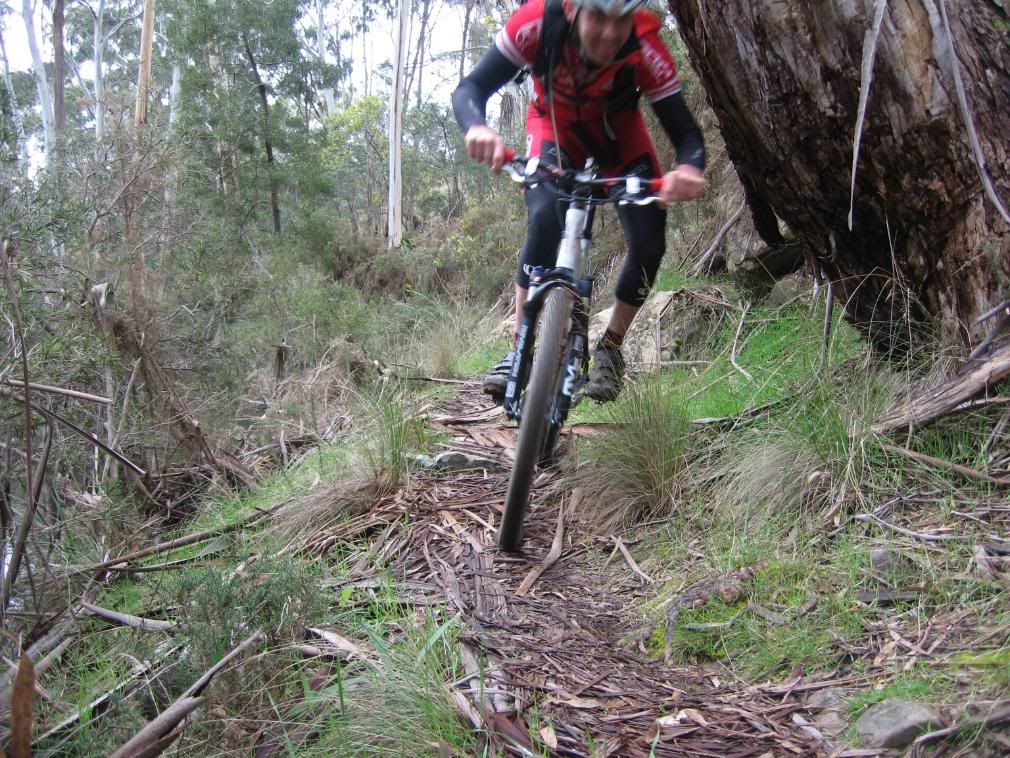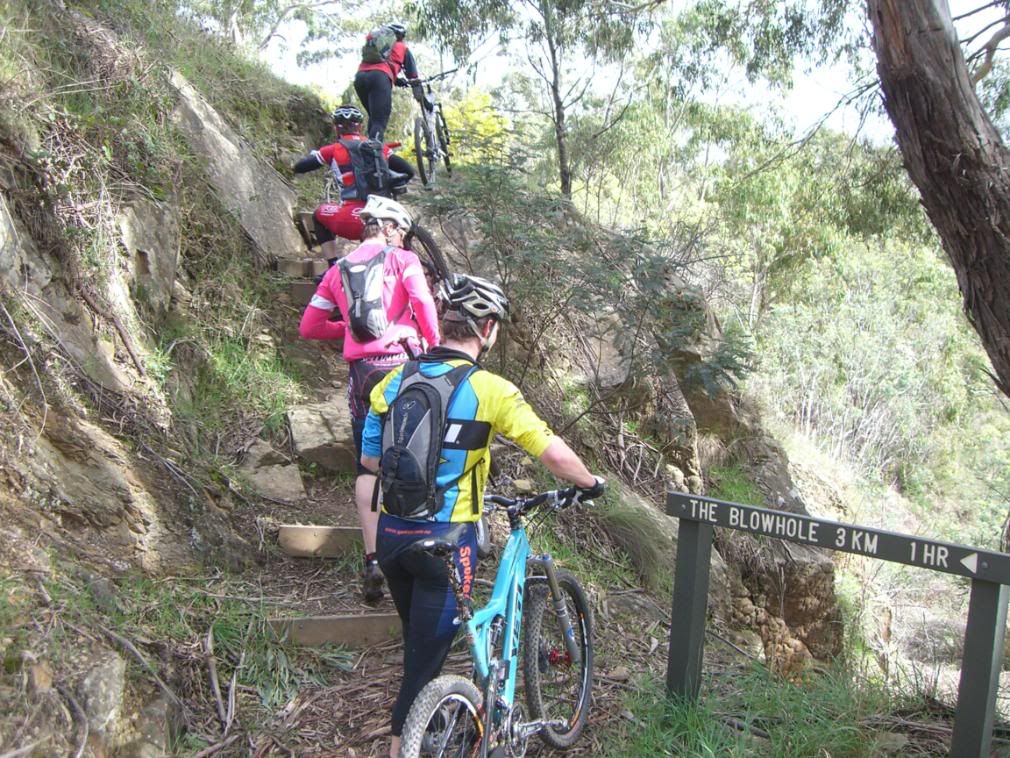 And it just wouldn't be an Epix without stairs, walking or adventurous navigation.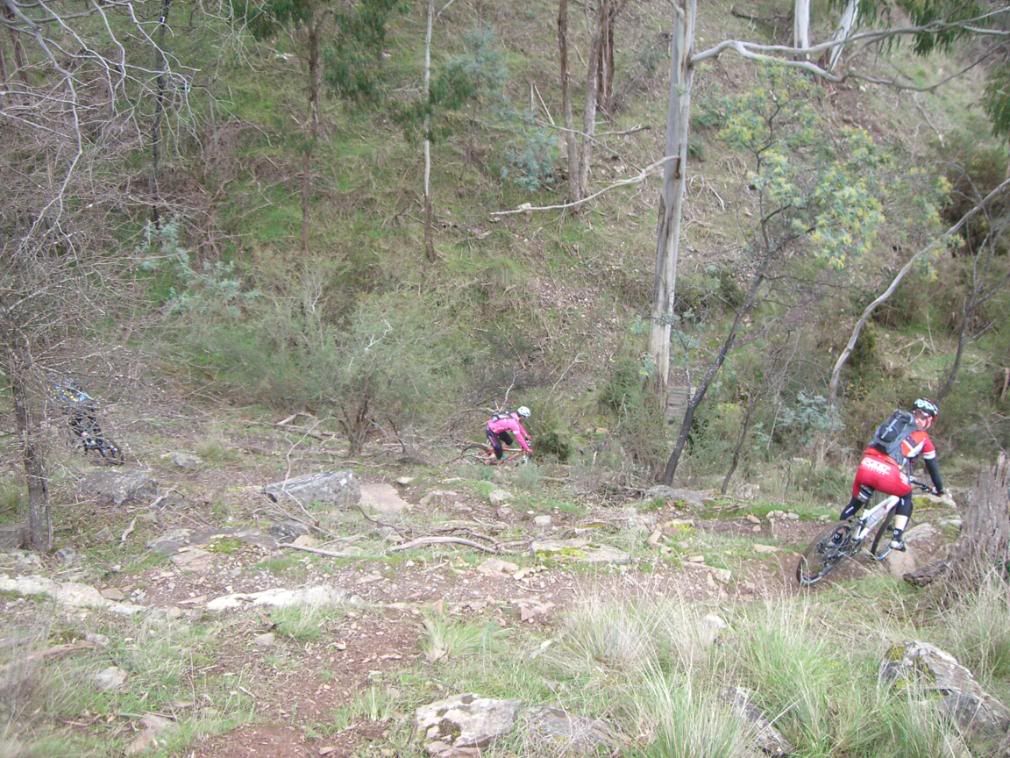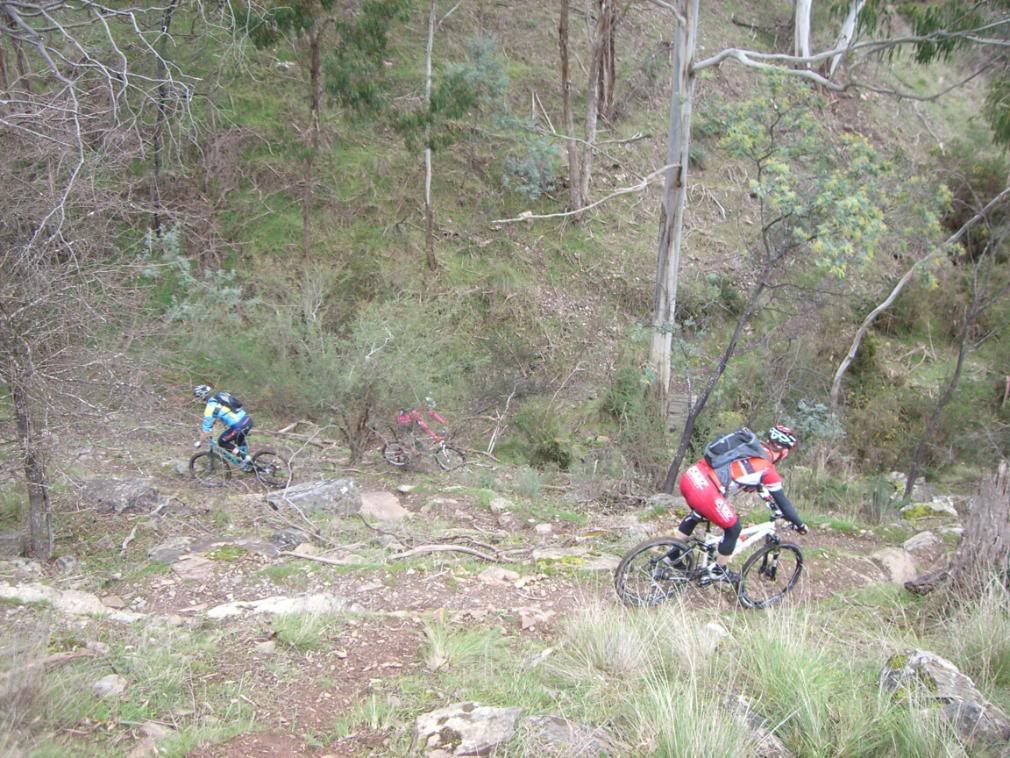 Check out these switchbacks! There was 4 switchbacks to get you down to a creek with a bridge missing a few planks, very very cool.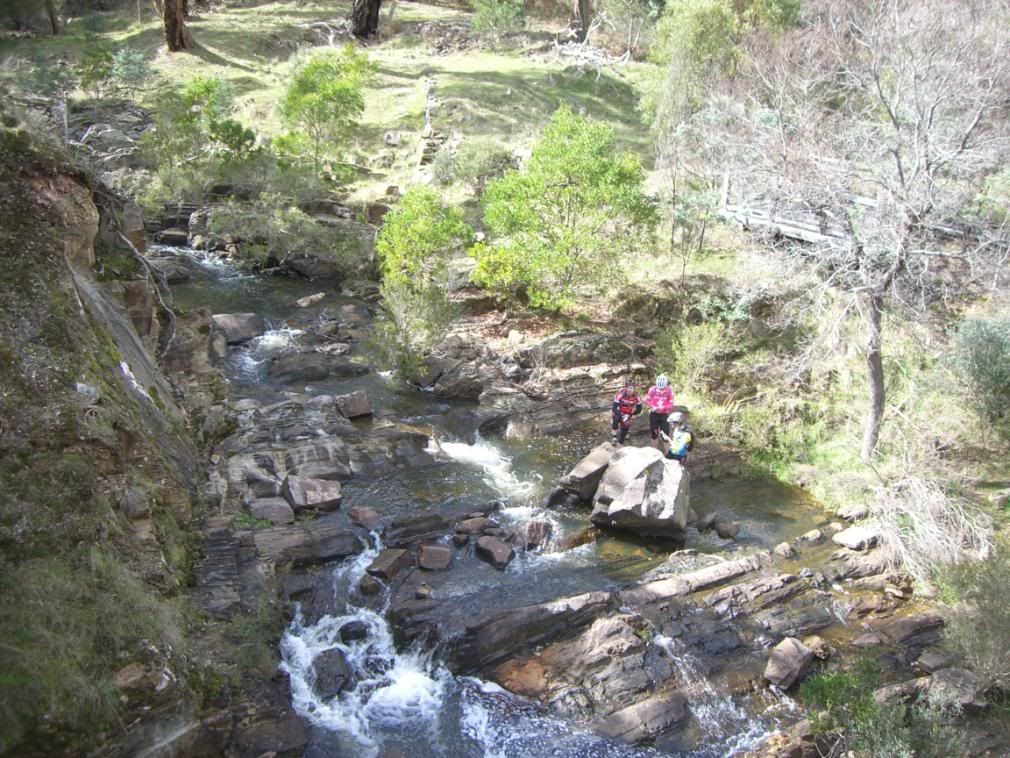 The blowhole was a cliff face that the gold miners of yesteryear blew a hole in to divert the water. It was pretty amazing to think what and how they did this, as its a scary place with all the brittle shale rock around. I certainly didn't feel comfortable knowing how brittle and unstable the rock is, so we hit up some more singletrack instead!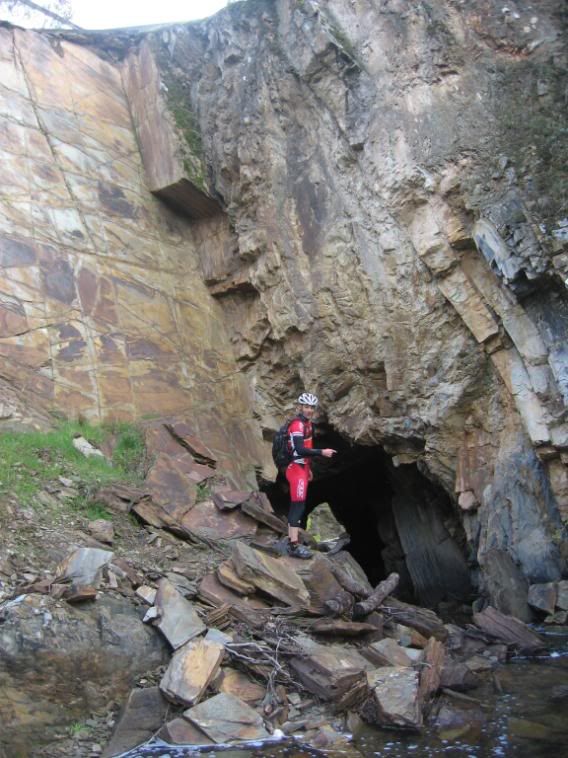 Joel took the opportunity to rid himself of some claret, spilt after a bobble mid conversation with Randall.




Oops... It was very funny to come around the corner, and see Joel killing himself laughing down in the prickles.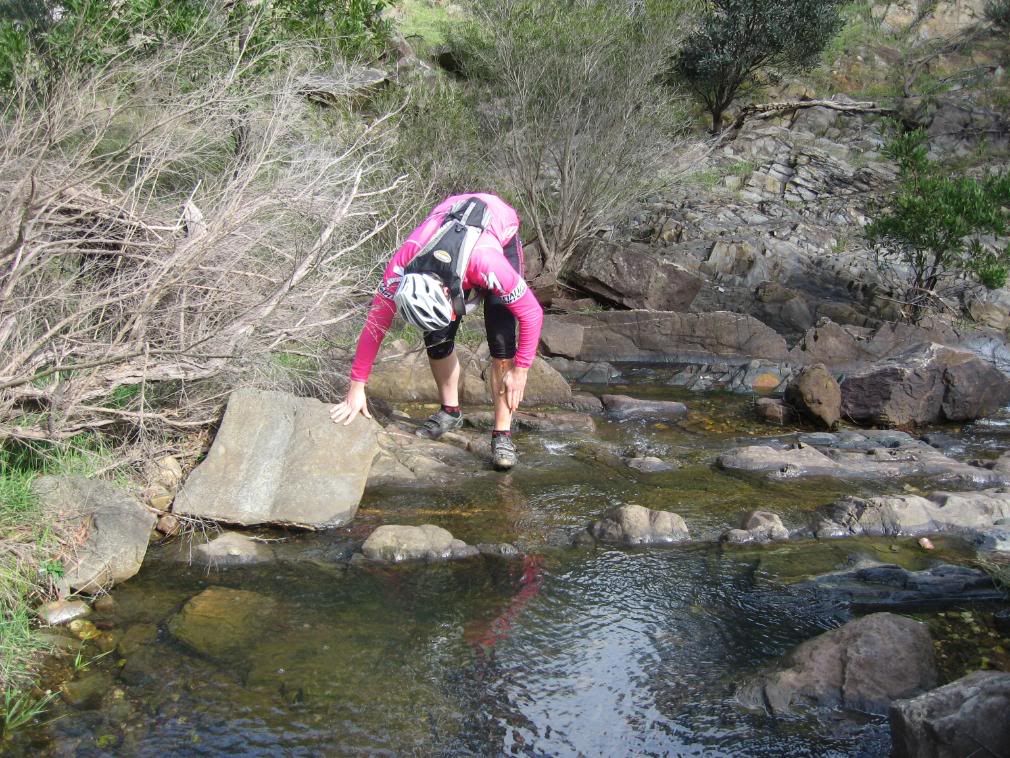 And with a bit of a jump, we take you to later in the ride...




The uh, local advice I guess you'd call it, suggested that perhaps a seat post lowering might be in order. Straight away, on those words, Randall clipped in and rocked it. Dropping out of sight, we had no idea what was down there, and neither did he, but he had a crack! Jason blindly followed quick as a flash, and took what looked like the elevator drop from hell. Thankfully it wasn't that bad, and we all smashed it down, but it was damn steep I can tell you!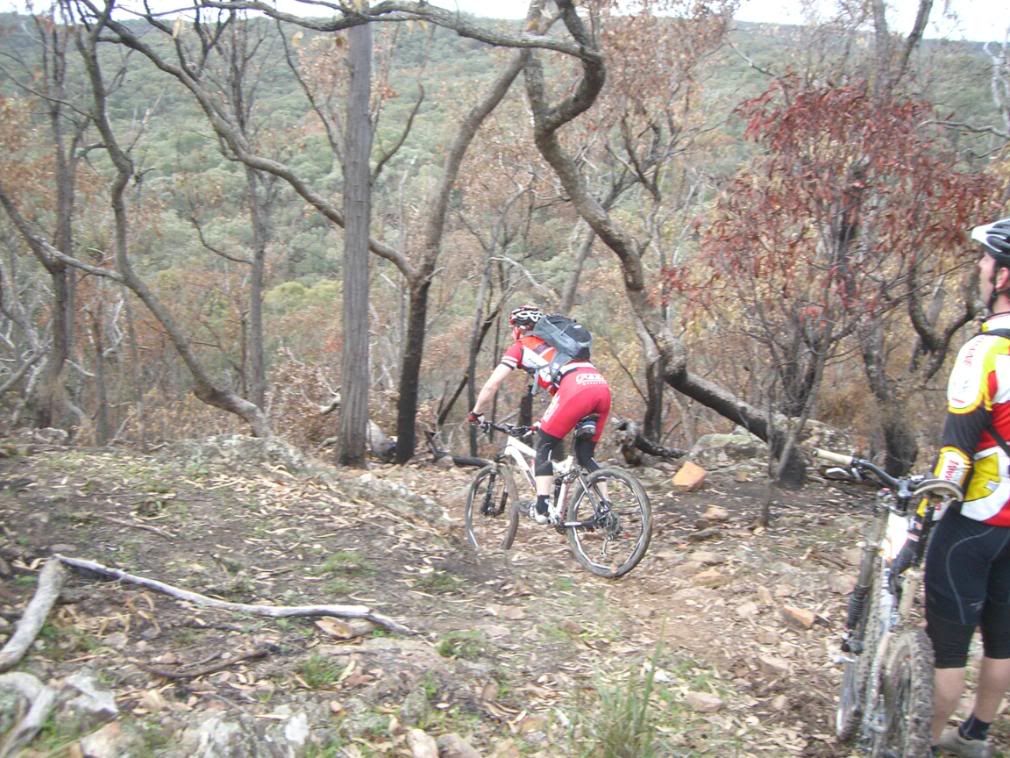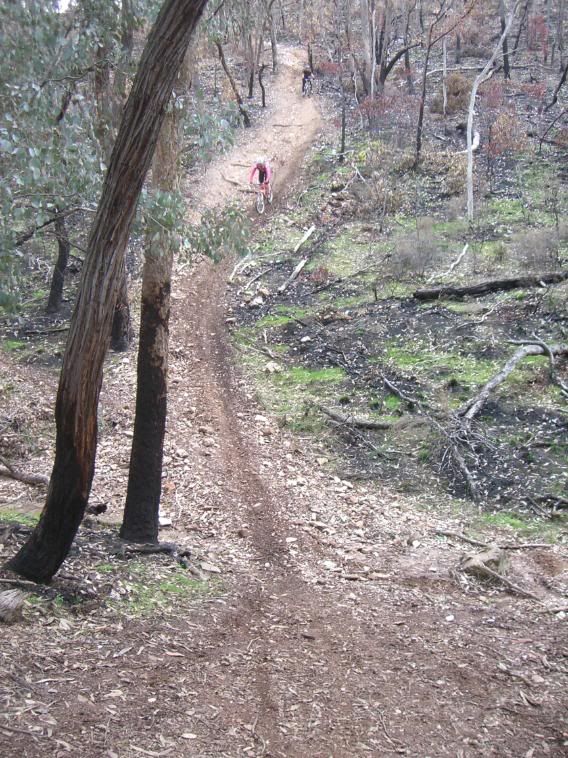 As usual, pics don't do it justice...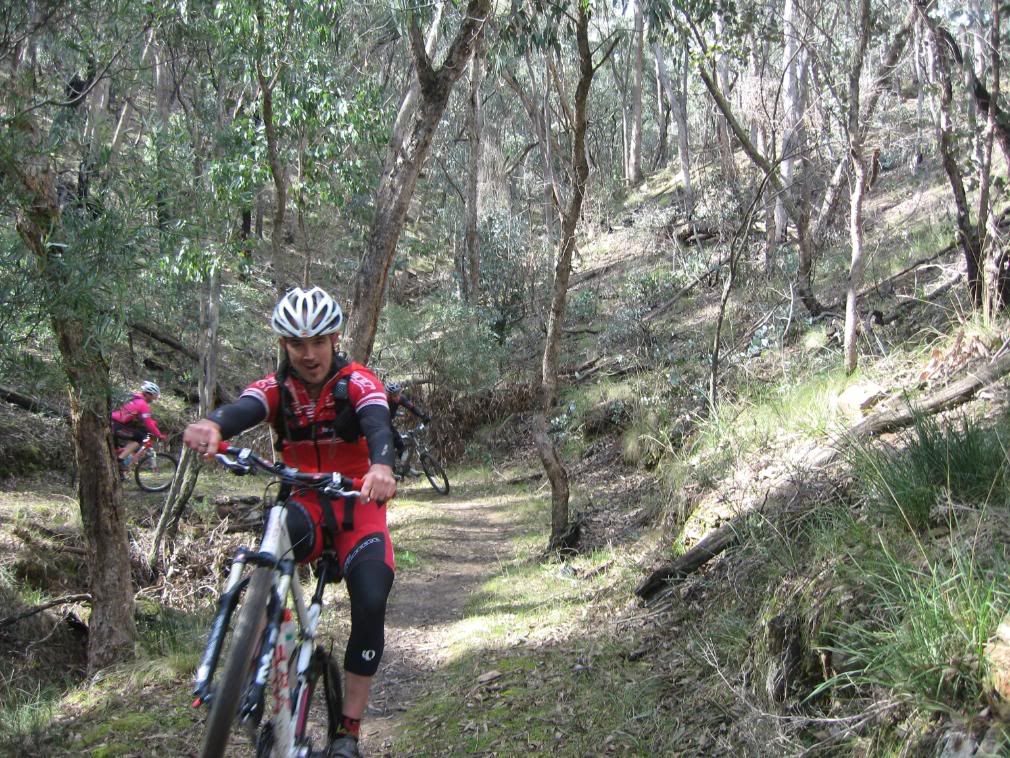 And heading along some more singletrack. You'd never get sick of it, regardless of what the cliches say!



Woo, still more!!

And so ends today's installment as I have to go to work...! There's a bit more to come, and I've even got a video I'll throw together over the next few days, so c'mon back, we'll have something for you!

Thanks for dropping by,

Felt Epix.

Oh and can I suggest that this weekend's JubbaLand 6 hour would be a damn good race to get along to - buffed course, little to no mud (imagine that!! Your drive train would thank you!) and some great extra curricular fun and games on Saturday! Check the website, and come along to my favorite enduro event of years gone by.