With a 6am alarm call for an 8am departure, we rose into the drizzle and sorted out all our kit. Bikes all ready to go, we attended to the other essentials for bike riders – food and drinks. So with all that boring stuff in place, people sorted into vehicles, radios, maps and a plan all attended to, we had the obligatory photo call and hit the road.



By 8.30 we departed Tunnel Bend campsite and out into the rain. Out onto the main road, we headed along the Howqua and looked for the first bit of singletrack called the 'low track'. Finding it within a few hundred metres, we all bombed down into it, hooting and hollering on the very first singletrack in our pseudo quest. Over some logs, a few slippy roots amid the long grass, and then it all skidded to a halt at a river…
Bugger. With not much left for it, we decided we couldn't get much wetter and waded across. Back on the bikes, we hit up a bit more sweet singletrack before the track crossed back over and headed straight through the river again. Twice more we crossed that damn river before we came across a creepy little private hut called 4 Mile Hut and decided that before the rockin' chair local returned, we should get out of there.
Back up towards the road, we came across some sweet cliff top singletrack which followed the river 50m above it, on the side of the hill. Ripping along with a sheer drop on one side was nerve racking to say the least! Slippery slabs of rock were everywhere, the clouds were hanging over the mountain peaks and the drizzle kept the temperature perfect! As usual with great trails, they end too soon, and we were spat out onto the road again.
Can you spot the riders?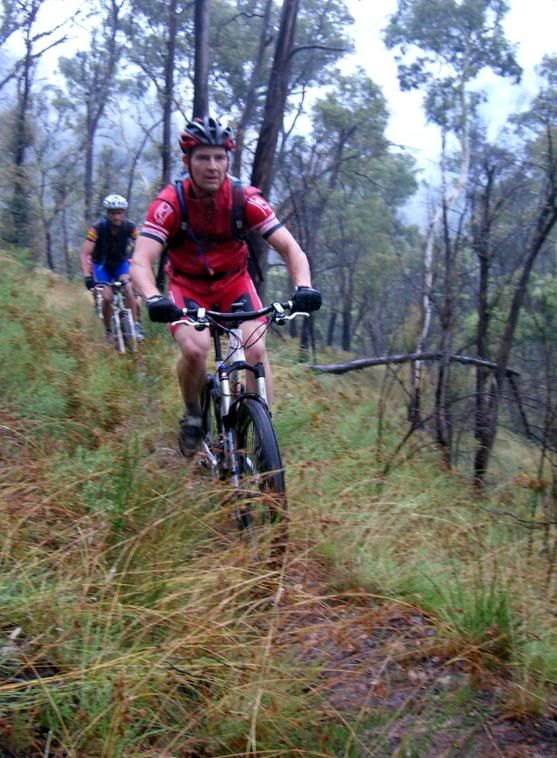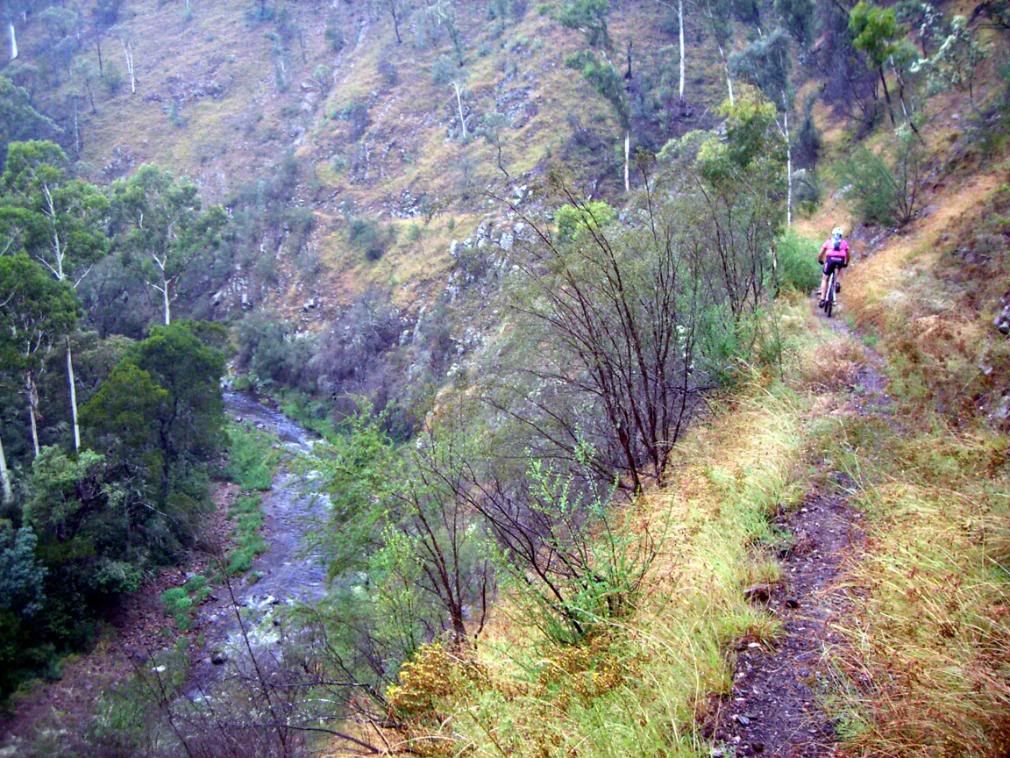 Rolling along as a nice tight bunch, we sadly rode past what should have been our turn off, but looked nothing like we were expecting and we paid it no heed. Hindsight, being 20/20, says we should have taken it, but we're learning here so we carried on all the way off our map. That took us out of phone reception, no UHF radio reception, up a massive hill and off our map. That's what we're talking about, adventure style. We did a very large climb to the top of a peak and descended the back side of it down some very gnarly tracks. And there are some serious climbs out there, but not once did we think we would rather any bike than the Virtue we were one. Climbing was manageable, descending was a treat and the whole package was perfect for this ride. During our climb, we came across some 4wd'ers who were amazed to see us and to hear where we were going, in equal parts. I won't print their actual words but if I mentioned their bum was hanging from their pants, that should give you some idea of the class...
With some discussion (and expletives, naturally), we ascertained our location and our plan, and hit 16 Mile Jeep track downhill to Pikes Flat where we met Gez for a pit stop. The mud was flying, glasses were doing nothing and a good deal of luck was needed! Jason had a huge mischief right next to me, eyes closed, riding sidesaddle over water bars and off track at warp speed but shut it down before any damage was rendered. Soiled pants would be a pretty apt description of the outcome of that, both from witnesses and victim. Our Virtue 1's were on song too, flicking the ProPedal off on the Fox RP23 made it liven up and soak up whatever we threw at it, and the Revelation forks wound out to 130mm were perfect out of the box. They are super fast bikes, genuinely. Right down the bottom of this track, Randall was washing his eyes (sinuses?) out and I managed to catch a radio call from Gez. It turned out that we were very close to our destination, making us some pretty excited boys!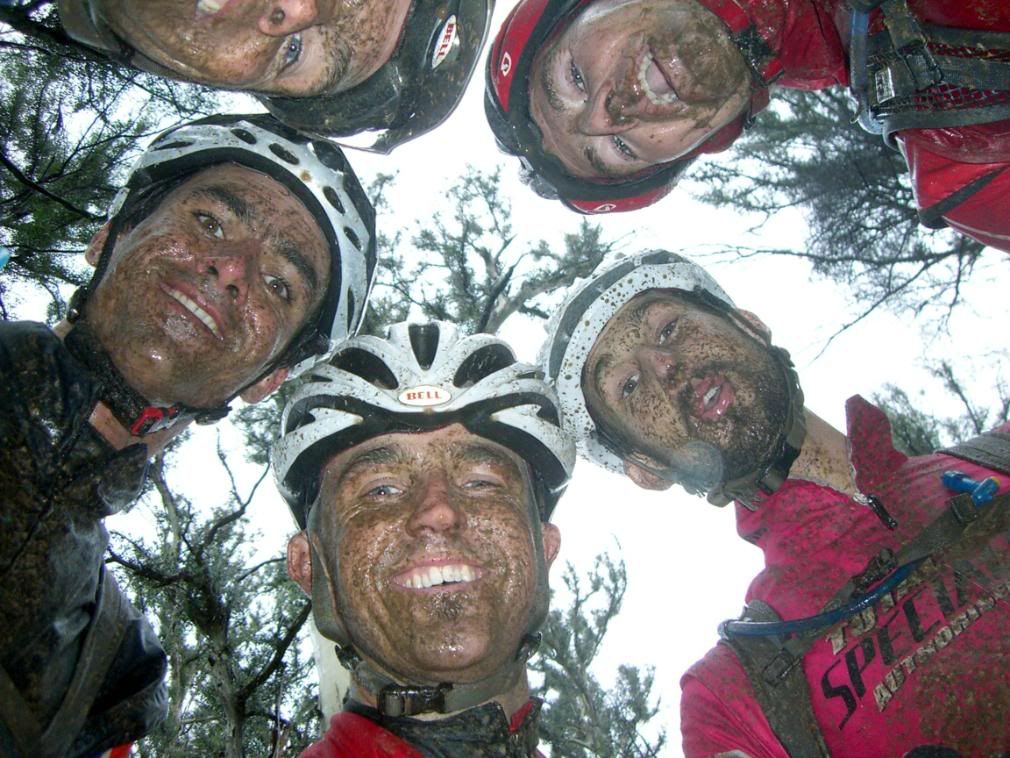 Mud mud glorious mud

Splashing our way over to him, we laid out all the food and tools we could find and went nuts. Chains got lubed, tyres topped up, brake calipers sworn at, and various other surprisingly minor issues were attended to. Food was a godsend and we fed our faces and topped up water bottles. The bikes were all putting up with the wet conditions admirably, our Virtues 1 were yet to miss a beat on their second ever ride, a testament to preparation. Straight back on the bike to avoid(ha!) getting cold, we were faced with Corn Hill Logging Road.